Fender Chapel Baptist Church
Enter to Worship, Depart to Serve
Our vision is..."Enter to Worship, Depart to Serve". As we grow closer to Jesus, it becomes a desire to worship and serve Him; not because we have to, but because we want to! We worship God not only with song and preaching, but also our thoughts, words, actions, time...our life. Not only should we want to serve God, but we should want to serve others. Jesus said in Matthew that He "came to serve, not to be served". We must become more like Jesus, so let us serve God and others...this is the greatest kind of worship!
Come Worship with Us
Sunday School at 10am
Sunday Worship at 11am
Sunday Night Worship at 7:00pm
Wednesday Night Service at 7:00pm
Wednesday Youth Service at 6:30pm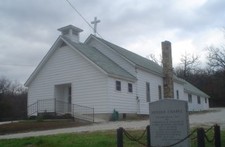 We welcome you to worship with us this Sunday. Experience the presence of God along with some friendly faces. We believe that the Bible is true, and know that Jesus is the same yesterday, today, and forever; able to do ALL things! Love to see you Sunday!!